Manu Hates California More Than Dick Cheney
Game 22: Lakers 102, Spurs 97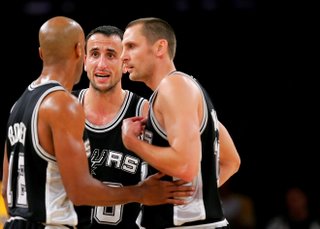 "Brent, have you seen my magnets?" "I saw Bruce playing with them on the plane." "Hey man, I gave them to Bonner at the hotel in San Francisco…"
(Photo by Lisa Blumenfeld/Getty Images)
I know pretty much everyone who reads me or likes me wishes I could do these blogs sooner, but sometimes, it really is a good thing that I sit back, wait, and have time to gain proper perspective before I sit down and type. For instance, if I were to write what I was feeling around 11 p.m. Thursday night, I probably would've lashed out at Pop, lashed out at Elson or Vaughn or the refs or whoever, and tried to make every excuse in the world I could think of for the struggles of one Manu Ginobili.
I would've sworn enough to make the whoremongers among you blush, I would've ruined whatever microscopic chance of a sports media career I'm aspiring to, and I would've alienated pretty much everyone who knows and likes me, both working for SpursDynasty and PtR or just reading them. In short, I would've been one huge fucking idiot.
That's not good for me, not good for you, not good for any of us. We need me to be sharp since so many of you, for a wide variety of reasons, cannot watch all the games. You depend on me to be your eyes, ears, and mouth, and it's a responsibility I take very seriously when I'm not working, sleeping, eating, playing video games, going to the bathroom, or masturbating.
So yeah, Manu all kinds of sucked on Thursday. I mean, he was really, really bad. He couldn't shoot, couldn't make lay-ups, couldn't pass, couldn't dribble the ball, and wasn't much of a defender and certainly not any kind of playmaker. It was as poor a performance as I've ever seen from him as a Spur, and that's saying something because as is the case with any noteworthy player laboring away through an 82-game slog year after year, there are going to be some real stinkers.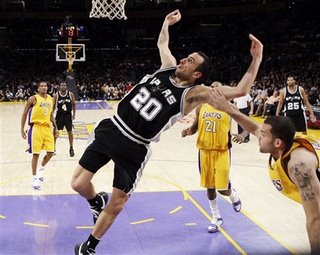 It's gotten so bad for Opus that he's getting knocked ass over teakettle by imaginary defenders.

(AP Photo/Kevork Djansezian)
In a way, I blame myself. I jinxed Manu during the Warriors blog when I wrote something to the effect of, "Surely this will be the worst game he'll play this season." It's like the basketball gods looked down on my arrogance and responded, "Au contraire, mon frère." Obviously, if Gino is going to play this poorly, the basketball gods must be French.
See? Here I go, making excuses again. Oh it's my fault for jinxing him. Oh, it's those jealous French basketball gods. Oh NOTHING! It's not anyone's fault but Manu's. I don't know how bad his hand is hurt and I don't care. Nobody cares! Just fucking play.
With the Warriors game, at least there were some excuses. Tony was just as crappy as Opus, if not more. Nobody really played well except for the Red Rocket, JV, and maybe Ime Udoka. Ime Udoka for crying out loud! The whole team had too many turnovers, the transition defense was terrible, and nobody could shoot. It was an out and out team loss, with many culprits.
Thursday at Los Angeles though, this just wasn't the case. It had been obvious for a couple of weeks that Parker just wasn't right, so Pop finally did the sensible thing and pulled him out. Really it was a move he should have made before the Warriors game, and he admitted as much. The point is that I didn't have Tony available to be a whipping boy in L.A.
Was it asking a lot of Manu to come up with a big night against the Lakers without Tim or Tony? Maybe on paper it was, but not as it turned out, in reality. If he just played average we would've won the damned game going away. That's the really disappointing aspect of it. We didn't need him to be Supermanu. Just Manu would've been plenty.
I mean, look at the box score. Whose performance there really disappointed you? Elson and Vaughn sucked, but they're supposed to suck. Bonner didn't do anything, taking only two shots, but you never know what you're gonna get out of Rocket anyway. Bruce and Brent both stepped up huge so the no help excuse just isn't there for Gino. The loss is on his shoulders, plain and simple. Lord knows he's won plenty of games for us singlehandledly; games far more significant than a roadie against the Lakers in December to boot. It just goes to show, even with Gonzo, one has to take the bad with the good. Hell, the guy tried to warn us all year that he wouldn't be playing as well as he had been forever. We, as parishioners to the Church of Manu, just have to ride out this slump, secure in the knowledge that like everything else, this too shall pass.
(Just don't ask me who the pass will be intended for.)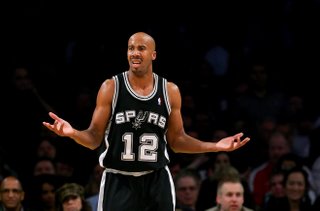 No Bruce, we can't figure out why you were the team's leading scorer either.
(Photo by Lisa Blumenfeld/Getty Images)
Anyway, like I said in the introduction, I'm glad I waited to write this because looking back on it, I see that more good things than bad came out of this game. The Lakers are an above average squad, probably a playoff bound club, and it was pleasing to see us hang with them right until the end without two of our three best players and the other one doing his best 'Toine impression.
Why were we able to be so competitive, you ask?
Two reasons.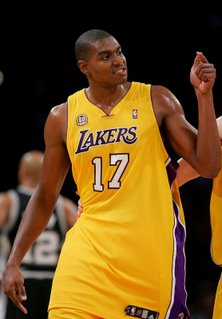 Okay, maybe three reasons; Andrew's ejection certainly helped. You can't let Oberto take you out of your game, young fella. I'm not sure what Bynum said to the ref, but I'm guessing it ended with "-ucker."
(Photo by Lisa Blumenfeld/Getty Images)
First, I think that slowly but surely our half court defense is coming back. Don't be fooled by the point totals that the Warriors and Lakers put up on us. In both cases it was almost entirely the by product of turnovers and giving up too many offensive rebounds. But when it came to forcing a miss playing five-on-five basketball in the half court, we've been stellar these past two games against two good offensive clubs. The rotations and closeouts are better, Bowen's really on his game, and the bigs are doing a pretty good job of clogging the lane. The defense has been the main reason we didn't get boatraced these past two games.
What will be interesting to see is what happens to the defense when Tim returns. If everything goes according to plan, his transition back into the lineup will be seamless and he'll turn a good defense into a dominant one with his rebounding, sh
ot blocking, and shot altering. Of course, the complete opposite can also happen, with him being rusty and tentative and everyone else going to pot expecting old reliable to save them once again. This past week the Spurs have been playing playoff level defense in the half court. With Duncan it has the potential to get to championship level, assuming he can regain his old form and stay healthy and everyone else can keep pace.
The other reason we kept it close was because it seems that the guys are settling into their roles and what's expected of them a little ahead of schedule. Obviously everyone knows that the Spurs have a big three. But I like to think there's a second tier there in the foursome of Bowen, Oberto, Finley, and Barry. All of these guys are veterans, they all have various skills and high basketball I.Q.s, and they're all very familiar with the system and each other. Repeating or not is basically going to come down to these seven guys. Everyone else is pretty much just roster filler, perfectly interchangeable with the 8-14 of any other team you care to mention. I will concede that Bonner has made inroads into cracking the rotation, but I'm not at all convinced that Pop won't bench him in May in favor of RoHo again since coach is in love with the Big Hip Check. And don't talk to me about the potential of Darius Washington and Ian Mahinmi. Every team has youngsters with potential. Until further notice they're just bodies.
The second tier though, all seem to have found their games at once. I guess it's only natural for veterans in their mid 30's to take a month or so to warm up. Whatever the reason, we actually look like a team out there now whereas in November the big three was carrying an inordinate amount of the load. What I'm happy about now is that nobody in that second tier looks "done" and I was afraid that was the case with Fin earlier in the season. He's starting to figure it out on offense. With him, it's not the shot as much as it's shot selection. He far and away leads the club in shots that you know have no chance as soon as he puts them up. But he had been taking less of those in the week before Duncan's injury. Plus, all the other areas of his game -the defense, rebounding and passing- have been markedly improved this season, which I'm guessing is the main reason he wasn't dropped out of the rotation entirely.
Anyway, we all know Pop will have a nine man rotation in the playoffs. Vaughn will get a sprinkling of minutes as will Horry/Bonner. But the games will be won and lost on the backs of our top seven, and right now I like our odds. I know this is going to sound incredibly stupid, but already I can't help but look forward to the Finals against Boston or Detroit (Orlando needs another year or two). I mean, am I crazy, or is this the least daunting the Western Conference has looked since 2003? Who exactly are we supposed to be afraid of right now?
Dallas is the toughest match-up for us physically, but they're too soft mentally, their offense is out of sync more often than not without a real point guard leading the way, and they're losing way too many regular season games to have home court advantage. Without that, they don't have much of a chance on us or anyone else.
Phoenix is even in worse shape, soft mentally and physically. Unless they pull a Nancy Kerrigan on Timmy (or the refs intervene) they have no shot against us. I'm really looking forward to Monday night where we'll just beat the hell out of them.
Utah and Denver are in the same boat. You let their two stars score and take away everyone else. Neither one has a swingman who can guard Manu or a point who can keep up with Tony and both sag in like crazy on defense, giving us three pointers all day.
Houston I thought would be a legitimate contender, but their offense looks like a mess and the Adelman hiring has been a disaster. They can't find a consistent third scorer or any stable play from their point guards.
Who else is out there? The Warriors? Let them face Duncan and see what happens. The Hornets or Lakers? Please.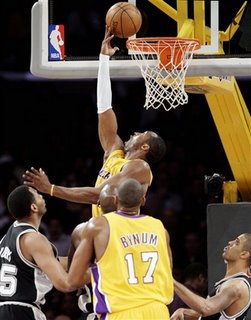 I still can't believe Kobe went all the way to Colorado in search of anal sex. Dude you live miles away from where 99% of America's porn is filmed. Certainly somebody in Van Nuys or in greater San Fernando County could've accommodated your needs. And they'd have been prettier too.
(AP Photo/Kevork Djansezian)
Face it gang, the second and third best teams in the NBA might very well be in that other conference. The Finals will assuredly not be a runaway this year and I'm pleased. Of our four rings the most memorable Finals for me was 2005, and that's because it was the only one that wasn't a formality.
Is it foolish to look that far ahead? Absolutely. But the less I think about the Lakers game, the better.
Your 3 Stars
3. Brent Barry – Clearly our best guard against the Lakers on this evening. Bones hit six shots, three from downtown, and had four helpers and four rebounds. Pop should've played him more than 28 minutes.
2. Fabricio Oberto – Nine points and a career high 16 rebounds for the Fabulous One, and we needed it out of him because none of the other bigs were worth a crap. You look at his physical skills and then look at Elson's, and it frustrates the hell out of you. If we could put Oberto's mind in Frankie's body, we'd have an All-Star center.

1. Bruce Bowen – What's with him and the Lakers? He can't shoot a lick against anybody else and against L.A. he can't miss. He's basically played Kobe to a draw in their two meetings this season. Very solid night out of him.

Record: 17-5
Up Next: Vs. Denver Nuggets
Timmeh will probably return and Bruce will once again have to be on his game against 'Melo and AI. Tony's going to be out but I think we'll be OK here since (everybody cross your fingers) Manu can't possibly play that badly again…
Comments
There are no comments on this entry.
Trackbacks
There are no trackbacks on this entry.