All We Can Do Is Smile Back
Second Round Game 6 Vs. New Orleans: Spurs 99, Hornets 80 (3-3)
The frustrating, thrilling, maddening thing about sports is how, in an instant, one play changes everything that happened before and everything that will happen next. One unexpected, unpredictable, unscripted moment and suddenly all the storylines and perceptions differ and all your opinions and ideas have to be rethought, reconsidered.
One play, an innocent enough looking offensive foul ordinarily, committed with 10:11 to go in a rout, drastically altered the way everyone thought about the previous 37:49 of Game Six and even more importantly, how they'll view Game Seven. What made this foul noteworthy when it otherwise wouldn't have been was who committed it, whose body part he committed it against, and what the stakes were.
After all, there are literally thousands of hard fouls given during an NBA season.
99% of the time, no one gives a shit.
However, every so often a foul gets people's attention. The broadcasters' voices rise an octave or two. The media's ears perk up. Old storylines are discarded and new ones are hastily written, in time for the morning paper and the 11:00 p.m. SportsCenter. Opinions change. Perceptions change. Futures change. Cheers turn into tears. Heroes become goats and vice versa. One measly foul changes millions of lives ands costs millions of dollars.
If you don't think a single slap on the wrist or nudge on the hip can change the way the whole world looks and thinks about you, ask Manu Ginobili about it.
Better yet, ask Robert Horry.
These are two of the most clutch players in NBA history. Yet both of them will forever be remembered, unfairly, for a single stupid foul they committed. Manu's wasn't flagrant, but it changed the outcome of a series and could've very well cost his team a championship. Horry's foul was flagrant, and while it didn't cost his team a ring, (some would argue that it actually bolstered their chances) it cost him his reputation from an individual standpoint and even more importantly forever altered the way casual fans would view the Spurs franchise.
I admit I was looking ahead to Game Seven. Who wasn't? I didn't really consider the possibility that the Spurs would lose Game Six. They had too much pride, too much history, and contrary to popular opinion, too much talent to go down meekly at home. But for 37 minutes I was visualizing Game Seven one way and then for the final 11 minutes (and the two days afterward) I've thought about it another way, thanks once again, to Robert Horry.
By now everyone knows the story. Horry set a back pick on David West, the oft-grumpy Hornets power forward with the pinched nerve in his lower back, and even though Horry appeared to make contact more with West's posterior than his back, the Xavier man crumpled into the ground in a heap, yelling in agony. Some of the crowd at the AT&T Center – notoriously among the quietest and most fickle fans in the league – chanted Horry's name afterward.
(Photo by Garrett W. Ellwood/NBAE via Getty Images)
I think it's important – vitally so – to separate the actions of the man from the reaction of the fans. Cheering any player's injury, even West's, is an unforgivable sin. I know West has been a prick all series. I know he's taken a lot of cheap shots at Fab. Still, that's no excuse. You just don't taunt a man who's hurt. That's bush league stuff. It's another example of why the Spurs themselves are a far better team than most of their fans deserve. Just look at the message boards. After Manu's Game Seven foul on the Mavs' Dirk Nowitzki in '06, many of their so-called "fans" were calling for his head and demanding he be traded, just one year after he was a postseason hero for the Spurs. This year, after the team was slumping in mid-season, many fans were clamoring for a midseason trade for thug Ron Artest of the Kings, the quintessential example of a guy the Spurs organization is not about. Check out the '08 free agency thread and you'll see many posters wishing for the Nuggets' J.R. Smith, another knucklehead. Maybe most damning of all, last year the Spurs didn't sell out Game 2 of the Western Conference Finals, a sign that their supporters had grown complacent with the team's success and that perhaps the Jazz weren't a sexy enough opponent for them to root against.
I'm not trying to bite the hand that feeds me. As a blogger I know more than most that the Spurs have many passionate, quality fans. They just don't have as many as they deserve, as the Game Six audience proved again. This is why it's ultimately fitting that a Game Seven triumph, if it is to be, comes on the road. Thanks to these fans, with a little help from Horry, the Spurs are the bad guys again, the villains. No one wants anything to do with them. The guys deserve to do this alone. They need to do it alone. I hope they do it on the road not just this round but the next two as well. They need to be gladiators.
I've been thinking about the movie "Gladiator" ever since Game Six ended. It's probably my second favorite sports movie, after "Field of Dreams," and no matter what anyone tells you, it was a sports movie. Gladiators were the first real visiting athletes, after all. They walked into the Roman Coliseum with thousands of bloodthirsty strangers cheering for them to die, often as violently and grotesquely as possible. People would wager on their lives and even if these courageous warriors were successful in mortal combat, against tremendous odds, if their fights wasn't thrilling enough for the emperor, he could still have them put to death, without the chance to fight. It wasn't enough to win, they had to win over the crowd as well.
We know by now that the Spurs will never win over the masses. No Duncan rejection will ever be emphatic enough, no Parker foray to the basket acrobatic enough, no Ginobili pass daring enough. The Spurs will always be despised for what they're not – high-flying, chest-thumping, trash-talking, alley-ooping Americans – rather than praised for what they are: socially unembarrassing, intelligent, cohesive, willful champions. They wouldn't dare shout, moc
kingly, "Are you not entertained?" to a road crowd, not only because their humility prevents them from doing such a thing but because the Nielsen numbers have proven that even neutral casual fans don't enjoy their performances, no matter how dominant or clinical.
Even more daunting for the Spurs is the history of teams that fall into an 0-2 hole in the playoffs in general and their own history in particular. The franchise has never won in that situation. They've never won when down 3-2. They've never won a road Game Seven. The last time the Spurs were involved in a series where the home team won the first six games was eighteen years ago, The Admiral's rookie campaign in '89-'90, coincidentally enough in the second round, against the Portland Trail Blazers. The games in Portland were all relatively close. The games in San Antonio, in the old HemisFair Arena, were all blowouts. The Spurs had a 97-90 lead with under two minutes to go in Game Seven but Portland came back and won in double overtime, 108-105. They would go on to make the Finals, where they lost in five games to the Detroit Pistons, a team that managed to do what the Spurs thus far haven't – repeat.
It was my first season as a Spurs fan.
So now the Big Three Era Spurs face their biggest challenge to date, a road Game Seven where everyone – EVERYONE – will be pulling against them. Not only will their fans be demanding Horry's dismemberment, but probably Bowen's and Duncan's and Manu's as well. The media, the TV people and the league will be against them because the Spurs don't sell. Right after Game Six, some hack tried to goad Ginobili into commenting on Horry's new reputation as "Cheap Shot Bob," alluding to last year's hip check against the Suns' Steve Nash. Because the Spurs are a team in every sense of the word, Manu quickly came to Robert's defense and offered his rebuttal.
"I think he [Horry] changed more seasons making shots than hitting people," Ginobili said, before adding, "I don't think what he did had anything to do with last year's series. He just pushed Steve [Nash] out of the court, but the problem was their players leaving the [bench]. He made a hard foul last year but [the suspensions] were their fault."
Sanity at last. Blame Amare Stoudemire and Boris Diaw for reacting the way they did. Blame Commissioner David Stern for strictly enforcing the rules and suspending them. Blame everyone involved in the "Malice at the Palace" in 2005 or that Nuggets/Knicks brawl in the Madison Square Garden last season, if you like, for forcing Stern to take such drastic measures. But don't blame Horry and the Spurs. They just play basketball.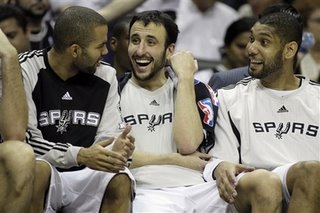 Hopefully not the last time we see The Real Big Three laughing it up this year.
(AP Photo/Matt Slocum)
There's no need to guess which direction Emperor Stern's thumb would point were he able to decide the fate of this series. The potential match-up between MVP Kobe Bryant and the man who probably deserved the honor, Chris Paul, would be compelling theater indeed. One dunks the ball, the other creates dunks for others. The Spurs won't be playing five-on-five or even five-on-eight on Monday, as most fans fear. It'll be five against the basketball watching world, the ultimate challenge for a team full of gladiators.
Just as we know that all men die, we know that one day the Spurs run will end. It could be next season when some team gets the better of them. Or it could be next month at Boston or even two weeks from now at Los Angeles. Eventually, it's going to happen. Our guys will reunite with their long lost wives and loved ones, if not on a celestial field of wheat, then at least on a palatial resort in the Bahamas.
But in the words of Djimon Hounsou's character, Juba, "Not yet."
Trackbacks
There are no trackbacks on this entry.