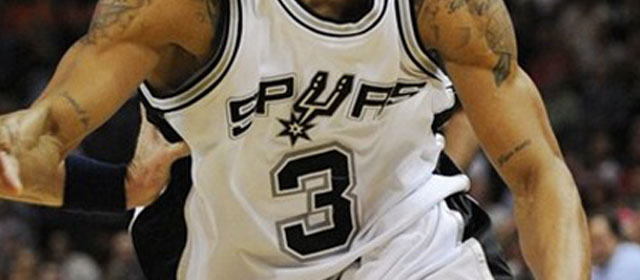 With the #1 seed locked up in the Western Conference, our thoughts now turn to securing the overall #1 seed, and finishing the regular season with the best overall record.
The Magic Number for this to happen is 3, meaning any combination of Spurs' wins and Bulls' losses equaling 3 will secure the top spot.
The question is: how hard should we go for it? Bart Herridge over at Spurs Planet makes a compelling argument that we shouldn't care about the Bulls at all. I certainly agree with his first assessment: that any potential match-up against the Bulls is so far away, we shouldn't even think about it. Too much can happen between now and June, obviously.
I do think, however, that a mild pursuit of the overall top spot is in the Spurs' best interest. There's always a healthy debate between rest vs. rust this time of year, and as anyone who follows the Spurs knows, Pop usually favors rest. But having just come off a six-game losing streak, it'd be nice to carry some momentum into the playoffs. Plus, Duncan just got a couple of weeks off. Parker and Ginobili and McDyess also got some extended rest after missing the final Portland game. The regular season ends on Wednesday; the Playoffs won't start until Saturday at the earliest. There's plenty of rest in there.
Also, the way the schedule shakes out over the final days provides plenty of rest. We play Utah on Saturday night after having two days off. Our next game after that is Tuesday against the Lakers, giving us another two days off. The season ends on a back-to-back, playing at Phoenix on Wednesday, the final day of the season.
My proposal would be this: play the Utah game as normal, with regular rotations and regular minutes, but don't overextend any players in search of the win. All things considered, we should be able to beat Utah in our final regular season home game playing that way. Sit the Big 3 plus McDyess against the Lakers. That game will have no meaning; and as a potential Western Conference Finals match-up, neither team nor coach will want to show too much. Throw the kids out there and see what happens. Hell, the Lakers might do the same thing. Finally, play the same way against Phoenix on the final day as we did against Utah: everyone plays, normal rotations, normal (or slightly less than normal) minutes. This will help keep the team sharp and ready without overextending. Again, with Phoenix out of the playoff hunt and getting ready to shut it down, a win shouldn't be too hard to come by.
That should give us 2 wins (at least), only needing one Bulls loss to secure the top seed, all without really pushing too hard for it.
However, the Bulls might not lose again this year. Their schedule is as follows: at Cleveland Friday, at Orlando Sunday, at New York Tuesday, and home against the Nets on Wednesday. They should win in Cleveland. Orlando would be tough, but Dwight Howard will most likely not be playing as he will be serving a suspension for picking up his 18th Technical Foul of the season. They shouldn't lose at home on the last day of the season to a Nets team playing without Deron Williams. So that leaves the game against the Knicks as their best chance for a loss.
In quite an odd twist, if the Bulls and Spurs end up with the same record, the tiebreaker is, literally, a coin flip. (There are a few tiebreakers in place, but apparently the two teams are tied on all of them.) That seems quite strange and silly to me. Home court advantage in the Finals could come down to a coin flip.
I'd prefer that to not happen. So let's get that overall seed.