Two Roads Diverged In A Yellow Wood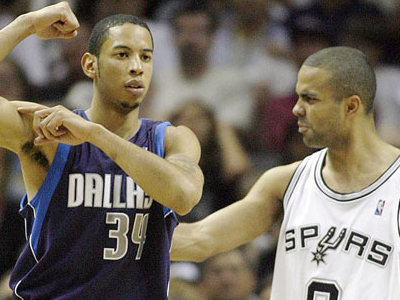 Coming into the series against the Jazz, Devin Harris was the player I feared the most.
Any Spurs fan should know why: The 2006 Western Conference SemiFinals, in which two 60-win teams (due to a seeding quirk later corrected) squared off in what Tim Duncan, Marc Stein, and myself still consider one of the greatest playoff series of all time, even despite it's heartbreaking conclusion. (More than 2004 and 0.4, 2006 and the Ginobili foul haunt my dreams. That title was ours.)
In that series, one of the many turning points was the insertion of a young Devin Harris into the starting line-up for the Mavericks. For the remainder of the series, Harris tormented Parker on both offense and defense, looking like the better version of the young PG we had relied upon for so long. The conventional wisdom at the time became that Parker was a quick score-first PG that couldn't really lead a team, could easily be defended and taken out of a game, and wasn't a complete player. The future looked like it belonged to Harris.
What a difference half a decade can make. In 2012, Harris isn't even mentioned in any PG conversations and has gotten eaten alive in the playoffs. Parker has made himself into a complete point guard and player, a multiple-time all-star, a periphery MVP candidate, a Finals MVP, and a lock for an all-NBA team.
What happened?
There are obviously a million different little things along each person's journey that determine who it is they become. And after a Finals meltdown and an unceremonious 2007 exit from the playoffs (the very same playoffs Parker earned his Finals MVP), Harris was shipped off to the wasteland of New Jersey, before ending up in the never-mentioned Utah organization (though a fine organization, for sure). After that 2006 showcase, he just never seemed to take any further steps in his progression.
But I don't want to make this about Harris. Because there are a million Devin Harris-es in the league. This is about Tony Parker and the Spurs.
One thing that the Spurs never get enough credit for (and they do get a lot of credit) is their player development. Yes, they have a knack for finding diamonds in the rough; but somebody has to smooth out those edges and make the diamonds shine. Every player in the NBA has loads and loads of talent; you don't make it to the highest level of professional sports without it. The Spurs just have a way of getting the most and the best out of every player that comes through their organization. Tony Parker could very easily have just been another lightning quick PG who scores at the rim. But Pop and the Spurs harnessed that talent and turned him into an elite player. It wasn't easy. And Pop was harder on Parker than perhaps he has been on any player ever. But the results speak for themselves.
And equal credit belongs to Parker, as well. Most 19-year old foreigners would have folded up tent and left for easier pastures after a few weeks with Pop's abuse. But Parker–who never gets credit for his drive, competitiveness, and pure will, which is a natural byproduct of playing alongside Duncan and Ginobili his entire career–took it, always with that smile on his face. He learned, he got over himself, and he worked his ass off. Every year he improved, and he turned himself into what he is today: an elite PG running one of the best, most efficient offenses in recent NBA memory.
We always talk about the perfect marriage of Duncan and Pop; but the matrimony between Parker and the Spurs is no less wonderful or perfect.
Author's note: The wonderful writers over at 48MoH obviously had the same inspiration I did. Check out their great article as well.
Comments
There are no comments on this entry.
Trackbacks
There are no trackbacks on this entry.