Clip Me Once, Shame On You; Clip Me Twice…
Mark February 21st on your calendar (hey, that's my half-birthday), because we've got the makings of something between these two teams. The Clippers are deep, playing very well, and have the Spurs' number so far in this young season.
Let's play some good news/bad news about last night's game:
Bad news: We lost the game, were mostly outplayed, and seemed to trail by about 5-10 points the entire second, third, and most of the fourth quarter, until improbably making it close late.
Good news: We improbably made it close late, and it felt like the Spurs might have won with about 2 more minutes of game time. It's the mark of a quality team to play poorly and still have a puncher's chance at the end.
Bad news: We played a miserable 2nd quarter, and a not much better third quarter. So bad, in fact, that Pop called it an "embarrassment" in his post-game remarks. He was probably right.
Good news: Well, when you play DeColo, Mills, Splitter, Green, and Diaw as your 5-man unit for 4 minutes of game time, you're bound to not score a lot of points. Right?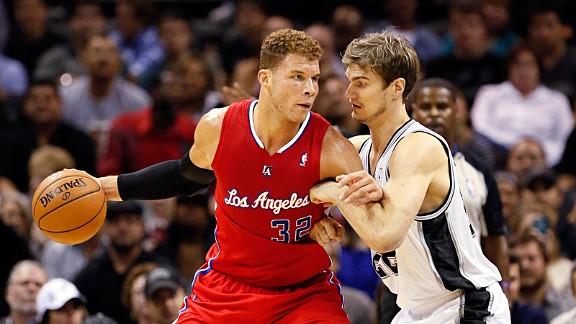 Bad news: Jack broke his finger; is most likely out 4-6 weeks. Leonard, our other SF, is still presumed out for another week or so. That leaves us with a bunch of bigs and a bunch of guards, with nothing in-between. Not a good thing ever, but particularly when you have Paul Pierce and a little player named LeBron James looming on the schedule.
Good news: Yeah, no silver lining here. "It's a long season" is about the only platitude that offers a modicum of solace.
Bad news: Parker has quietly had a string of bad to mediocre games.
Good news: Ginobili looks a lot better over the last 2 games.
Bad news: Outside of Duncan, our other rotation bigs played fairly poorly.
Good news: Matt Bonner decided to re-insert himself into the conversation, showing what he brings to the team just by being on the floor (immaculate spacing, solid positional defense), and how he can, you know, knock down that 3-ball we like so much.
Bad news: The reffing was atrocious, and really prevented any sort of rhythm or flow to the game. It was laughably bad at times.
Good news: It affected both teams equally.
That was a win I wanted, especially heading into a 6-game road trip. Looking at the schedule, though, 4-2 is a realistic goal on the trip, and maybe tonight's loss will add a little extra motivation to get that win in Boston, a place where we notoriously play tight and sloppy games.
Pulling back, the picture of the Western Conference is looking very interesting this year. With the emergence of Memphis and the Clippers as legitimate threats, the slight slip-off of the Thunder (with the loss of Harden), and the early struggles of the Lakers, there are 5 teams that should rightly believe they can make it to the Finals. That is almost never the case in the NBA from either conference. This is going to make for an entertaining regular season, as the teams jockey for position and seeding. And the playoffs will be amazing, with a potential first round match-up pitting Finals' hopefuls (the 4 and 5 match-up). That is crazy. I think the 1-seed will be particularly valuable this year, and staying out of that 4-5 hole will be very important.
But that's a long way off. For now, let's kick Boston's butt on Wednesday.
Comments
There are no comments on this entry.
Trackbacks
There are no trackbacks on this entry.