It isn't the NBA anymore. It is the DSA.
Dear God, I don't even know where to begin. It's going to be difficult to write this without a ton of emotion, so I am not even gonna try.
First off, I am just tickled pink right now. I think that was the most beautiful loss I have ever seen. I tend to tweet a bunch of BS during Spurs games, but one thing I stand by: I'd be ashamed if I were a Miami Heat fan right now. That being said, I am going to break this into three parts:
1. The Game
From the get-go, I was impressed. While most people thought this game would be a write-off, our guys didn't.
I was highly impressed by Nando De Colo tonight.
De Colo has a handle on the rock and can flat out pass. I don't think he's a game-changer yet, but he has beautiful vision. As a former point guard, I know that vision is something you either have or you don't, and that kid has it. Plus, he can get the ball there. I think he needs to work on his quickness, as he was a step slow on the defensive end. His size, bulk wise, is also an issue. He just doesn't quite have that DSA body yet (more on that acronym in a bit). It will be up to him to develop one.
I loved Diaw on LeBron. I am thinking long term here. Pretend we have a healthy Leonard and Jackson and we are late in a game with these clowns. Having Diaw available to switch on LeBron in crunch time makes this thing interesting. We don't want Duncan on a switch — keep his big behind in the paint. Sadly, the miles on his knees might not let him keep up. But if we pump Boris with some oxygen down the stretch, he has the size to bother LeBron Shames, as he did tonight.
I hate that Chuck and Reggie sang LeBron's praises in the fourth quarter. LeBron had two back-to-back plays, one offense and one defense. I don't even remember the first, but the second was stealing a post pass when he fronted Boris. Suddenly, they proclaimed him as "taking over the game." It is a good problem to have when you get held to a measly 23-9-7, but that is mild for Shames. I wouldn't have blown him up that much, but then again, that's TNT, sponsored by the DSA (we will get there).
Gary Neal (20 points 7 assists) and Patty Mills played marvelously. I was really impressed with most of their playing, with the exception of a few bad shots down the end. We had a couple chances, but they rushed things a bit and didn't get the contested 3 to fall. It happens. That will come, but overall, a good showing by both guards.
Side note: Gary didn't start. He stayed in his normal flow. Point: Pop.
James Anderson? Seriously? Dare we say that he is back? Yeah, his future is uncertain of course, but I think he played his butt off tonight. He looked gassed at the end, but his block on Mike Miller showed effort that we didn't always get from him. I loved it. He even drew a foul on the last play of the third quarter.
And what about Tiago Freaking Splitter? His attitude tonight was impressive. I think he has a calm, cool swagger about him and a great touch around the basket.
Has anyone else noticed that Tiago is developing a nice little chemistry with Nando? Has anyone else noticed that he has one or two block-your-shot-and-beat-you-down-the-court-and-score plays a game? Has anyone else noticed that he can make a Free Throw every once in a while?
This Spurs team was not supposed to win. We were supposed to get blown out and our guys came in with a chip on their shoulder. I wore my shirt during the game from last year: "I want some Nasty." I thought they had some tonight. Miami's experience and game fitness came into play down the stretch. I'm not sure if our guys are used to playing that many minutes and I think they were all tired. But they ran plays, executed for the most part, and certainly had Erik Spoelstra flabbergasted at the end of the 3rd quarter. He didn't know what to say to Craig Sager and his hideous jacket.
2. Pop
Speaking of Craig, I am convinced that he has realized that those suits are a gimmick and he can't be taken seriously when talking to Pop while wearing a PETA-violation of sheep's wool. He learned from David Aldridge that you gotta bring your A-game when you talk to Pop between quarters. But TNT sure didn't learn. They sent the most illiterate, overweight broadcaster they could find in Charles Barkley to interview the Reporter Killer, Gregg Popovich.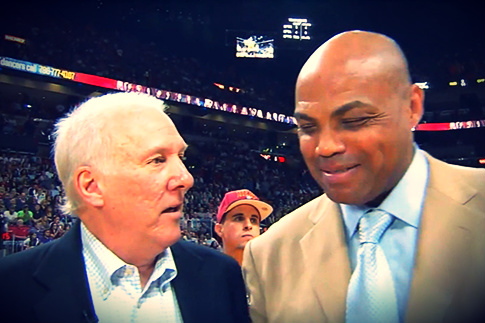 I didn't know if Chuck wanted to talk into the microphone or eat it. Charles looked like he was going to ask Pop for an autograph. Not only did he try to ask a third question (only two are allowed?), but he talked to Pop like he was Rocky Balboa doing a commercial shoot. It was pathetic. Pop almost enjoyed it until the third question. But then Pop was like, "Hey. That's enough. Lock it up, Chatter Box. This isn't social hour. This is a basketball game," and shut it down real quick.
I can't tell you how much I love those interviews. I am convinced that Pop plans them out days in advance and can't wait to give the interview. Poor Charles never had a chance. He needed Reggie to come talk about "Free Throws and the Michael Jordan days." I can't wait until the next interview.
3. Substantial Sanctions
Seriously, dude? You have got to be kidding me. You want to penalize a team for thinking long term? How about penalizing your schedulers for allowing a team to play six road games in eight days, ending the trip against the defending World Champions? Excuse us for being proactive. Our bad, obviously. Forget the fact that Kawhi and Jack are already injured and that we have a Divisional game against Memphis on Saturday. Let's focus all the attention on the snobs of Miami and the fact that you want ratings.
I imagine that David Stern and Roger Goodell have parties to plan how to ruin their leagues. That was the dumbest, most controlling statement a commissioner has made in the history of sports. I am glad you got your publicity there, Old Man. Now all the attention is back on you, right where you want it. You know what's funny? You still got a hell of a game. You trended on Twitter and a ridiculous number of people tuned in for the second half when it was close.
And what sanctions do you think would be fair? Are you going to make Pop wear a tie from now on? Not select our guys for the All-Star Team? Scold Peter Holt and RC Buford, the same guys who saved your season last year? Come on, fool. You are a joke and a half.
It isn't the NBA anymore. It is the DSA: the David Stern Association. It is your little playground, David. Maybe your parents didn't hug you enough as a kid or you weren't disciplined enough, but it is obviously all about you, not what is best for the league and its franchises. You depress me. You say the fans are more important than the health of the players? Are you a Nazi? It's like you made a bet with Roger that the Spurs would beat the Heat and then found out the Spurs were down their best six players, got mad and freaked out. What a child.
If I am Pop, I hand deliver my check to the DSA Fines Department and refuse to speak to anyone else but DS. That guy sucks, man. Sucks.
Enough of all that… the Spurs played their butts off tonight. Tip of the cap to these guys for playing against a stacked deck of cards and almost coming out on top. I am very pleased with this loss. Five guys in double figures and a ton of bright spots. Lots of room for growth, but we all knew that was coming. On Saturday the Spurs face Memphis. I hope Pop gets suspended and appoints a ball boy to coach, then the Big Three and Danny go bonkers and win by 20.
Expect Jalen Rose to have an interesting take tomorrow morning. That should be good, with his championship experience and all. I can't wait.
And I certainly can't wait for Pop's reaction to the DSA, if we ever get one.
Go Spurs Go!
Trackbacks
There are no trackbacks on this entry.