5 Things You Need to Know About Tonight's Spurs-Lakers Game
Here are five things you absolutely, positively must know about tonight's Spurs-Lakers game three at Staples Center:
The Two Steves are injured. Steve Nash and Steve Blake may be the whitest NBA backcourt since Danny Ainge and Vinny Del Negro (1989-90 Sacramento Kings), but when they're both healthy and shooting well, they can be dangerous. Unfortunately for Lakers fans, Nash won't be at full-strength tonight, if he plays at all, and Blake will be in street clothes.
The Lakers are pretty good at home, even without Kobe. Compare the Lakers 29-12 record at Staples this season to the Spurs road record of 23-18. Under better circumstances, you might expect the Lakers to win this game. But not now, not with the team in total and utter disarray, and without Kobe. Then again, Kobe missed three home games this season and the Lakers won all three. Kobe missed three home games last season, too, and the Lakers won two of them. The only one they lost? 91-112 to your San Antonio Spurs.
David Stern really, really doesn't want the Spurs to sweep. Stern was once asked which teams he would most like to see in the NBA Finals, and he said, "The Lakers versus the Lakers." Why? TV revenue. Well, this year, Stern won't get the Lakers in the Finals, let alone playing any games in May. But he'll take whatever he can get. One more televised game featuring the Lakers might make Stern a little happier about the prospect of seeing the Spurs in another NBA Finals. Again.
T-Mac won't get any minutes, unless the Spurs lead by 20. I know, I know, a lot of us are really, really excited about having T-Mac on the roster. Perhaps he'll get to play in the next round against the Nuggets. But we know Pop, and knowing Pop, McGrady probably won't be suited up tonight or Sunday night.
Another, possibly more interesting playoff game will be airing at the same time on ESPN.
Go Spurs Go.
BONUS: Here's a little meme making the rounds. You know Owen? Owen who? Harharhar.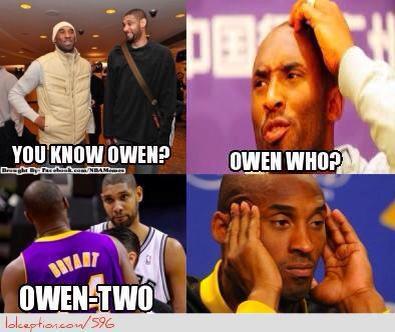 Comments
There are no comments on this entry.
Trackbacks
There are no trackbacks on this entry.