Get Your Brooms Out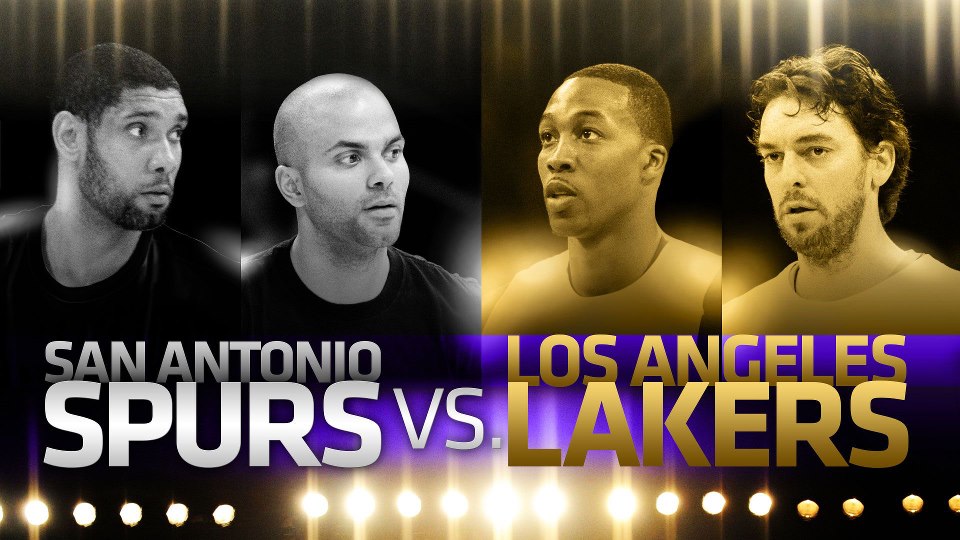 Spurs open battles to win 5th championship VS the SteveBlakers,
or it comes full circle.
"Tonight we're gonna party like it's 1999." -Prince
Hola amigos. Been a while since I rapped at ya.  We Spurs fans begin our most exciting, yet nerve-wracking and intense part of the year… the part we've looked forward to with anticipation since last spring, when our Black and Silver Hoops Juggernaut went on an historic playoff tear (even by Spurs' standards, remember 1999).
A quick recap of the end of our season showed us that the Spurs were in cruise and rest mode, having secured home court against every team in the NBA not named Thunder nor Heat. Pop, as, always, was strategic after yet another phenomenal outing for our beloved team.
Remember, also, that last season was about the league owners standing up nearly unanimously against the tyranny of the large-market-NBA. Owners are already fantastically wealthy, and they don't like having franchises that are the collective farm team for the StevebLakers or CHeat.
               
While our Spurs Dynasty staff had differing opinions of the process and faults, it was certainly a rebellion by most owners against the shameful display that was "The Decision" (public disrespect of one's home in an hour long ESPN show was truly a low for sports in general, and the NBA in particular).
Fun fact: the four largest NBA markets (Los Angeles, Chicago, New York, Houston) have more TV viewers than the entire total of all other league cities… and at one point had been represented in the Finals every season but one *for decades*.  Pitiful.  You can't blame NBA owners for wanting to compete and not just see stars bounce off to the big markets by demand, for much larger payouts including not just endorsements, but the likes of Jerry Buss simply throwing money at them.  No one wanted to see Chris Paul traded to the StevebLakers under deeply suspicious circumstances, not unlike Pau Gasol was, etc.
The new league collective bargaining agreement is not a hard cap, but it quickly punishes teams in rapidly escalating amounts for being over the cap. This is why Harden was traded away from the Thunder, despite his phenomenal play, particularly against our Spurs in the conference finals.
This is also why the StevebLakers are dancing in quicksand, and Kobe is now the albatross who will ruin that franchise for some time to come. Why? Kobe was strongly discussing retiring at the close of next season.
You can imagine the schadenfreude (leave it to the Germans to have a word meaning "delighting in the suffering of another" – more like enjoying the misfortune of others than causing it) when two of your founding Spurs Dynasty staff were near Los Angeles at the Coachella Festival last week and the news broke that Kobe was done for the season, and maybe with professional basketball.
Having spent a small fortune to go the Western Conference Finals in LA and seeing Kobe in the 4th quarter of an already decided series *dunking* on us (yeah, your booty still hurt from the sweep to close the Forum, like that girl in Colorado, right?)… having watched Kobe get away with bloody murder in the playoffs courtesy of Puppetmaster Stern, repeatedly… for years… there were no tears shed for Mr NoMeansNo, nor his wife who said she didn't want to be with anyone who didn't win an NBA title (?!?!?).
Kobe's injury is a perfect storm to ruin the StevebLakers for quite some time.  They didn't rehire Phil Jackson, Jerry Buss died, ownership is in disarray, they had to give every last bit to make the playoffs (the awesome young Portland Blazers, led by fierce ROY and all around bad-motherfucker Damian Lillard fielded 4 rookies versus 4 hall of famers and almost won).
Big expectations. Big talk at the start of the season. Chaos ever since. No defense. Kobe talked about retiring, Gasol and Nash were often hurt, Dwight Howard proved big and soft like always — and of course has one foot out the door like always at the end of this year's contract. And they barely made the playoffs.
That means a much worse draft, and Kobe now has something to stay for: his damaged ankle/ego.  Artest is probably done. Barring Nash, it couldn't happen to a nicer group of people. Now, with broken old players way over salary cap, a bad draft, and an extremely overpriced albatross / face of the franchise, whose ego won't let him leave gracefully, they're jacked for days. Sadly, we won't get a repeat of Kobe crying on SJax' shoulder while getting outplayed and eliminated.
Stick a fork in em.  They're done.
Where does that leave us?  Full circle. The Spurs will sweep the StevebLakers.
And then there's T-Mac. Remember him?
Yeah, McGrady was the greatest threat ever to face your Spurs franchise. Why? in 2000, he tried to help Grant Hill publicly and privately lure Tim Duncan to Orlando. Remember that Florida 3-man super team, obviously recruited breaking the NBA rules?
Because we at Spurs Dynasty do. In fact, I remember hitting refresh on the news page on my work computer. All day. For a week. So I could follow reports of helicopters buzzing around Duncan's house as he contemplated his future. The Admiral convinced him to stay. Grant Hill enjoyed the Curse of the Spur'ned (notice what happens to players careers when they turn the Spurs down — it's almost like clockwork how bad it goes for them immediately).
Despite T-Mac being the greatest threat in franchise history (consider our team had Duncan left; chilling, yeah? See?) – and despite him single-handedly destroying us in the 4th quarter of important games, repeatedly, the kid was one of the greatest ballers of all time when he was young. Youngest player in ABA/NBA history to win the scoring title.  Consider that for a minute.  Yeah, he's a baller.
Now he comes to Duncan to play for a ring. The Lakers franchise is in shambles. Kobe is effectively done.
Get your brooms out.  Puppetmaster Stern can't give the StevebLakers enough fouls to keep them in this series.
Schadenfreude.
Trackbacks
There are no trackbacks on this entry.