Perfect Timing
I know I'm not alone in saying that these last few weeks have been tough on our Spurs. A few last second shots missed by Houston or Denver and maybe the Spurs would still be the #1 seed.
As disappointed as it's been watching the Spurs lose to top Western Conference teams, I've been even more disappointed by the team's lack of hustle, lack of defense and rebounding, lack of WANT and DESIRE to have that fifth championship. In order to win a championship, you need to want it more than anything else.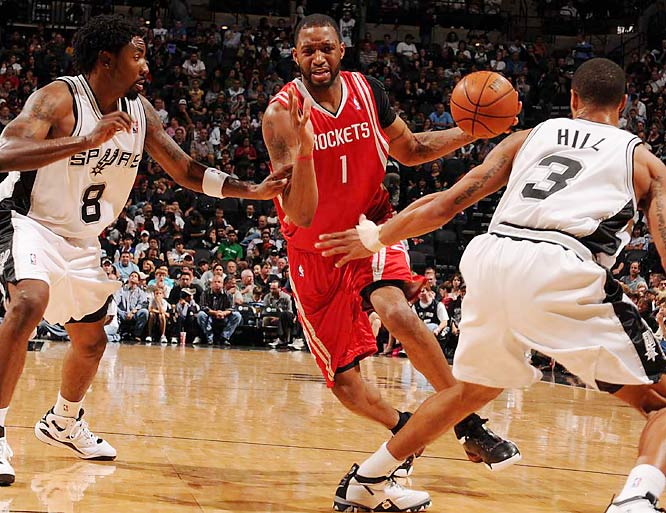 In steps Tracy McGrady, a guy who WANTS and DESIRES a championship ring more than anything. T-Mac has been hailed as of one of the best shooters of his generation. And why shouldn't he be? McGrady is a 7-time All-Star and a 2-time scoring champion. Granted, T-Mac faded out later in his career, felled by multiple injuries. But I will say this: T-Mac is, and should be looked at as, a great pick-up for a team sitting at #2 in the Western Conference. I can't overstate that enough. This late in the season, new blood could be just the thing this team needs.
Pop has often relied on experience and depth to win championships. Go back to every championship team we had and you'll find veteran role players on the bench… Mario Elie, Steve Kerr, Michael Finley, Robert Horry and Stephen Jackson.
A role player is exactly what McGrady is at this point in his career. There's really not a better coach in the NBA than Pop for shaping a guy into a role and teaching him what his role means on the team. T-Mac's role will be to pass or to shoot open shots. Or to just play damn good team basketball. Whatever that role ends up being, I think T-Mac will happily try his best to fill it, so that he can have a shot at winning the most coveted and ultimate prize in the game of basketball – an NBA Championship ring. 
Should we ever really doubt Pop? Maybe this was planned in advance or maybe it was just a purely random deal that came about last minute. Either way, Pop has always known what's best for his team. He sees something there that he thinks might make a difference in winning another championship. And let's not forget — Pop knows how to win championships. 
They say nothing and no one is perfect, and I believe that's true with Tracy McGrady. However, when I think about the timing of this move, well, it couldn't be more… perfect. 
Comments
There are no comments on this entry.
Trackbacks
There are no trackbacks on this entry.