The Finals. A Place to Call Home.
I don't even know where to start. My cup runneth over. After six years and what seemed like an eternity, the San Antonio Spurs are back where they belong, in the NBA Finals, the place we call home. Familiar territory. Old stomping grounds. It's where we hang our hat.
Before we go any further, let's take a second and give some credit to the Memphis Grizzlies. I cannot recall another playoff series that was as physical and yet respectful. This wasn't like the Clippers series that had players taking each others' heads off. It wasn't like the cage match between Chicago and Miami. This was true basketball, the way it was meant to be played. You foul a guy, make sure he doesn't score, and then help him get back up.
This sense of mutual respect had a spotlight shown on it when Marc Gasol abandoned a potential 5-on-4 fast break to check on Tony Parker, whom he accidently poked in the eye. Grasp that. Gasol is down three games to none. He is on his home court. He is trailing in the game. His team has the ball and is charging down the court and Marc is concerned about his opponent who is down on the ground.
Class.
Memphis just was not the better team in this series. They fought hard and showed resilience, but they just didn't have the pieces to compete with the Spurs. Maybe that Gay-for-Prince trade can be blamed, maybe Z-Bo's headband can be blamed, maybe Karma can be blamed. Regardless, we say goodbye to our fallen foe and press on into the NBA Finals, our home, on 9 days rest. We deserve it. In this series, the Spurs finally played four games to their full potential and it was scary good. Well, except that game 3 where we went down 18, Pop went hockey-line change on everyone and we climbed back into it. But like I have been saying all year long, a sign of a good team is when you can play like crap, and still win.
Tony Parker is the best point guard in the league. I hate agreeing with Stephen A. Smith, but he is. You saw the full repertoire from him this series. You saw him control the pace of the game with extremely high efficiency, you saw his incredible court vision (18 assists? Really? Freak…) and then he caps it off with 37 in a close out game. He was 15-21. He missed six shots. Six. Uh, Carmelo? Well, this is awkward…
Manu Ginobil. That guy, man. I tweeted last night that in about six seconds I went from wanting to stab him to wanting to hug him. I think Popovich has given up trying to coach him and instead just crosses his fingers. That being said, when he went 5-hole on Prince to CoJo for the lay-up, I wanted to dance Gangnam Style (my wife didn't let me). FYI, last night he had the Devil's stat line 6-6-6. That might explain his 6 turnovers too…
Speaking of Cory Joseph, he might be one of my favorite Spurs. That kid deserves a spot on this playoff roster and deserves some clock. He works his butt off on every play and doesn't make a lot of mistakes. I love him. I think everyone loves him. Except Nando De Colo, but that's for another time…
Matt Bonner and Tiago Splitter deserve huge credit. Take a look at Zach Randolp's stat line in this series. He had 44 points in the entire series. To put that into perspective, Quincy Pondexter had 61. Save for his rebounds, Z-Bo was virtually non-existent this series (48 rebounds for Z-Bo, Duncan and Splitter had 49 combined). I mean, those two completely took him out of his offensive game. He got nothing easy. The Red Mamba didn't have his best shooting series, but he is a pest on defense. Tiago also swatted away that Bayless reverse lay-up at a crucial time. By the way, Tiago needs to dunk the ball more. He gets a lot of lay-ups around the basket where he could dunk the ball and create a more intimidating persona, but instead, he just does a lay-up. He is like a Liger: fun to see, but gets weird after a while.
Guys, Boris is a blessing in disguise. His court vision can't be taught. He came into the league as a Point Guard. He had a few Whataburgers along the way, but his vision stayed. That shot he made in the middle of the lane had Jeff Van Gundy drooling and rightly so. His Hi-Lo game with Duncan is Disney-quality magic.
Danny and Kawhi are rockstars. I think our Hammer action sets are probably my favorite. If you aren't familiar with Hammer action, take a look at this YouTube video about San Antonio Spurs offensive sets and learn about it. Teach it to your sons.
But Danny and Kawhi are starting to make a living off of it in these playoffs. And that isn't even their best skill right now. Those guys are some very impressive defenders, Kawhi in particular. I think KL2 is extremely underrated and would do a superb job on either LeBron James (more on that in a minute) or Paul George. Danny is coming into his own as well.
And all that defense talk brings me to our Anchor.
Timothy Theodore Friggin Duncan. He is having a great rookie year. He should have been the Rookie of the Year. Of course he made First Team All NBA, but that was to be expected for this bright, young star. This young kid runs the floor better than any big man in the game right now. His youthful exuberance is a bright spot for this franchise and I expect him to have a long, successful NBA career throughout the next decade.
***reads note that has been handed to him
Correction folks. Tim Duncan is 37 years old. Apparently he was a rookie in 1999? This doesn't add up. Shouldn't he be moving like Will Purdue right about now? Why is he beating players down court on a consistent basis? Something isn't right here.
I'm not going to say anything else about Tim Duncan. Bill Simmons said everything that needs to be said in that pre-game segment. That was the greatest thing ESPN has ever done. It was perfect. Show that to your sons as well.
Now, on to the Finals. Of course, everyone is already saying Miami. Look, Miami has to get past Indiana first. Miami will probably win that series in 6 games, but they still have to do it. Right now, we have a guaranteed seat at the table and until Miami's ticket gets punched, they still have to go through the motions. They are 2.9 seconds away from being down 1-2 in that series. They have to win another big game in Indy and the Pacers CAN win that series. Miami is the better team, but not by the margin most people think.
I hope Miami makes it to the Finals for a ton of reasons. First, I think we match up better against them than we do Indy. Indiana is built like us and has the size to give us fits. But I also want Miami for the same reason that every other Spurs fan worth their salt wants Miami: they represent everything that we oppose.
San Antonio and Miami couldn't be more different. They love the lime light, we hate it. They make Harlem Shake videos, we don't. They have an offense built around one player, we play team ball. Their Big Three are all formed through free agency due to deep pockets. Our Big Three has been formed through the draft and have been together for over a decade. Their fans don't show up until the second quarter of games, our fans have to be asked to leave the AT&T Center. Their fans buy Miami Heat gear online, our fans wait outside Academy stores at midnight.
But the scouting reports might as well be thrown out because neither team has played against each other at full strength. It's too early to scout them anyways. Miami has a big obstacle in front of them and they have to win two more games to get to the table. I won't pick Indy, but I am not going to count against them either. I abstain.
One thing is for sure, the San Antonio Spurs are going to the Finals. '99, '03, '05 and '07 were great. But this one seems a little sweeter. We have been counted out all year long. We continue to piss off David Stern and ESPN and we withstand all the "old" jokes, even though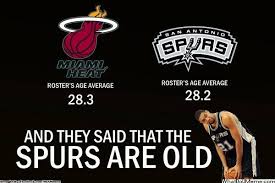 The Spurs have a great chance to win their fifth ring. I expect Rookie Tim Duncan to lead them all the way.
Trackbacks
There are no trackbacks on this entry.