Returning To The Scene Of The Crime | San Antonio 101, Miami 113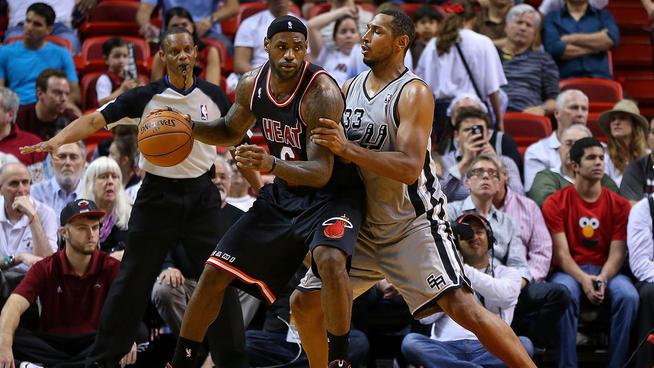 I still get chills thinking about how close the Spurs came to that title. I'm still startled awake at night remembering Ray Allen's shot in the air, that rebound, those missed free throws.
So I was surprisingly calm during today's game, the first rematch of the two teams, and the Spurs first time in Miami since Game 7. I even mustered a wry smile when Bosh pulled down an offensive rebound off a 3-point miss and dished it to Allen in the same corner…and he missed it.
I suppose my calmness also had to do with the blowout, and the Spurs being so depleted facing a Miami team at full strength and hungry for this win. San Antonio's depth is great, and against teams like Atlanta they can paper over any holes that injuries might create. But against a healthy Miami team on the road? Against the best player in the world without any suitable option to guard him? Forget about it.
Of course, the ease with which the Heat scored is disheartening, depleted roster or not. Both offenses were humming in the first half, and both teams shot absurdly well from the field. In the second half the Heat kept it up and the Spurs didn't. That's the cursory analysis. However, the shift happened in the second half because Miami upped its defensive pressure, and suddenly the looks weren't there for the Spurs, and the offense got rushed, and there were too many contested shots. The team was settling for good, rather than trying to find great. On the other end, the Heat kept dinging the ball around and finding open shots. Miami kept shooting hot because they kept taking easy shots.
Again, it's hard to take anything away from today's loss. 3 of the players that started in last year's Finals were injured today. While we don't have any big names injured, the entire middle of our rotation is gutted right now. Our 2-guards are playing at the 3, our 3rd string PG is playing anything but PG. Our starting center mostly guarded LeBron. Every player on the roster played significant minutes. Baynes played a very meaningful stretch of time in the 2nd quarter.
Still, the framework from last year's battle was still there, and it's easy to see why these two teams make for such entertaining basketball. Totally unselfish superstars devoted to team play, smart coaches, great shooters, complex and thoughtful defensive and offensive systems that are similar but also play to the unique strengths of each team. Styles make fights, and when healthy and engaged, these two teams make great basketball.
That doesn't mean my dreams will stop being haunted anytime soon.
Comments
There are no comments on this entry.
Trackbacks
There are no trackbacks on this entry.