Winter Pays For the Summer | San Antonio 105, Atlanta 79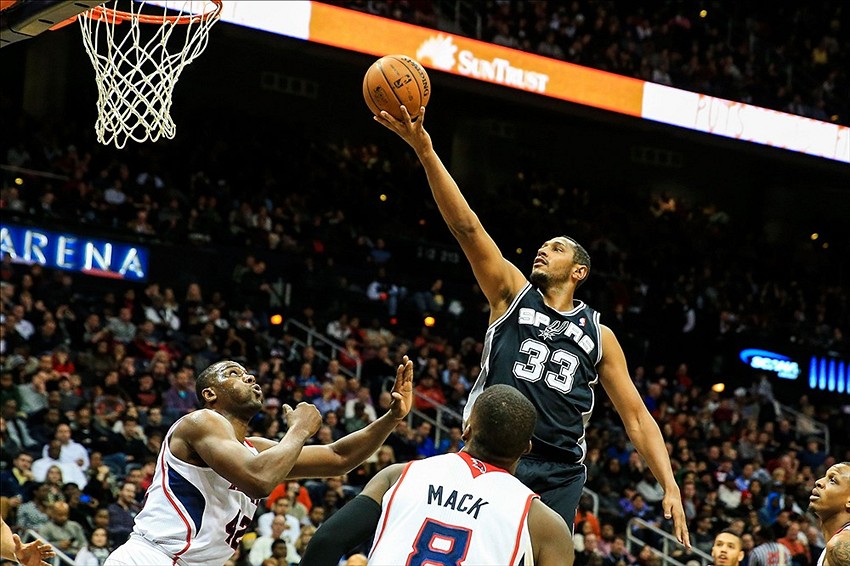 Much like the last game against the Hawks in San Antonio, this one had the feel of an intrasquad scrimmage; unlike the last game, this time it was because the Spurs just destroyed the Hawks in a game (and building) completely devoid of energy and life.
Lifeless games happen all the time in the NBA. Tonight, the Spurs were sharp from the outset, the Hawks were flat, and everything just kind of snowballed from there. Tim Duncan pretty much controlled the first 10 minutes of the game on both ends of the court, waiting on Patty Mills to come in and just start hitting wide open 3s like it was a shooting drill. Patty held the fort until Boris decided to get 'revenge' on the team that drafted him many years (and pounds) ago.
Really, the Spurs just did what they do so often: execute, pound the rock, win. Every player played, every player scored, and every player kind of did exactly what they're supposed to do on this team and to a high degree. Nothing really stood out, and no further analysis is needed.
What I loved most about this game is what it says about the season-long narrative. There's a line from one of my favorite songwriters of all time, Glen Phillips:
"There's nothing too special about getting hurt,
Getting over it, that takes the work"
I kept humming this line to myself all night. In part, because it's catchy as hell. But also in part because it reminds me of this season's team. We can fret over not having any signature wins against elite teams, or about already having lost more games at home than all of last season. But there's a flip side to the equation: the Spurs are the only team in the league without a losing streak; the Spurs have by far the best road record in the league.
Put another way: the Spurs always recover from losses with solid performances that lead to wins. And, the Spurs play exceptionally well on the road. (The Spurs road record: 16-3. The next best record in the league: OKC and Portland at 15-7.) If we put negative significance in the fact that the team can't beat elite teams as it portends doom in the playoffs, then we should put equal positive significance in the fact that the Spurs don't lose consecutive games and play very well on the road, two things that would appear to forecast great success in the playoffs.
Truthfully, none of it matters until it does.
What does matter is the process, and tonight the team played great basketball.
Comments
There are no comments on this entry.
Trackbacks
There are no trackbacks on this entry.