Half Calf Life
Serge Ibaka and the Thunder made news in the interminable 3 days off between Games 2 and 3, upgrading his status from "out for the remainder of the playoffs" to "day-to-day". This is a radical change for a serious injury, and one that make the Spurs seem prescient.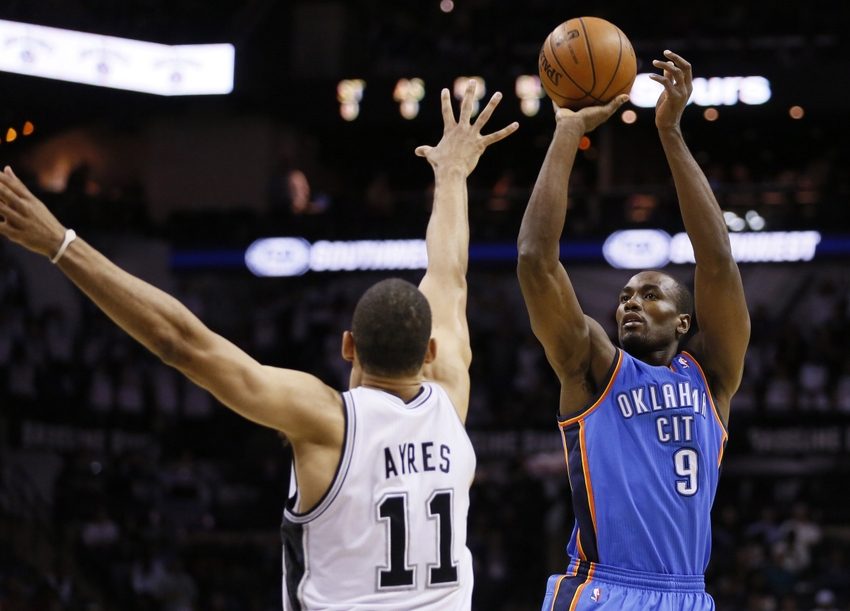 The thought of a fully healthy Ibaka roaming the paint on D and swishing 18-footers on O is a provocative one, but I wouldn't get too excited by it. Ibaka's strength on defense in particular lies in his ability to cover ground: laterally, forward and backwards, and up and down. It's his closing ability and then his leaping ability that causes so much trouble at the rim and forces every shooter to force the shot a bit quicker or linger just a bit longer. Even if he comes back, he'll be playing in great pain and will most likely be a step or two slow. I can't see Ibaka's presence being more than a morale boost, with just slight improvements on both ends of the court.
If the Thunder are counting on his return to solve their problems, then they are entirely screwed. While the absence of Ibaka has surely turned these Spurs wins from convincing to blow-out, there are far greater problems afoot, one that Ibaka's return can not fix. A healthy Serge covers all manner of sins, but right now the sins are greater and much wider ranging. While I think his presence would add a jolt to the crowd and be a welcome site to his teammates, I think it might also distract the Thunder from all of the other issues facing them right now.
And it will probably also be a blessing for the Spurs. Game 3, with the home team down 0-2, is usually a recipe for the road team with the commanding lead to let up just a little, and the home team to play desperate and hungry. i.e., the home team often wins and puts the series at 2-1, with Game 4 being the telling game. (This is what so impressed me about the Spurs going up 3-0 on the Blazers in Portland.) If Serge comes back, it could allow the Thunder to relax mentally just the slightest, removing just a hint of desperation and aggression. It could also allow the Spurs to be a bit more focused, knowing that they must play even better with the return of Serge. The obvious edge the Thunder might have in Game 3 could actually be lessened, especially if Ibaka is only a fraction of himself.
If he is only a fraction of himself, I'd expect the Spurs to go right at him, hard, right away. Test that calf; make him make decisions on a bum leg that will force his body to do things it might not be capable of; bring the fight to him. Rather than letting his shadow rule over the court, force him to prove it. The way the Spurs are playing now, they don't seem very afraid of this Thunder team in any permutation.
On a personal note, I would worry that Serge is rushing back too soon. If he plays, I'll assume that he has been fully cleared by doctors that have his best long-term interest in mind. The problem, though, is that coming back too soon from a serious strain is what often leads to tears. A calf tear would put him out for months, ending his summer workouts and probably getting him back just in time for the beginning of next season. Many years ago I strained my calf very badly playing Ultimate Frisbee. It took me about a month to walk normally, and 2-3 months to be running and cutting again. (I'm obviously not the caliber of athlete of NBA players, nor have access to their medical treatment.) After a month or two of being almost back to normal, I was playing in the end-of-year regional tournament, and in the very first game of the day I was blindsided and collided with a player. There was minimal contact below the waist, but I still went down immediately and had to be carried off the field. My calf was torn.
6 months later, I was still rehabbing. It took almost a full year before I had 100% confidence in it. My ability to play the way I wanted never returned.
Very different situations, obviously, but I don't want to see Serge affect his long-term playing ability just to maybe make a difference in this series. But it's desperation time in Oklahoma City, and they probably need a miracle to win this series.
I don't know if a hobbled Serge Ibaka counts as a miracle. I suppose we might find out tomorrow night.
Go Spurs Go.
Comments
There are no comments on this entry.
Trackbacks
There are no trackbacks on this entry.