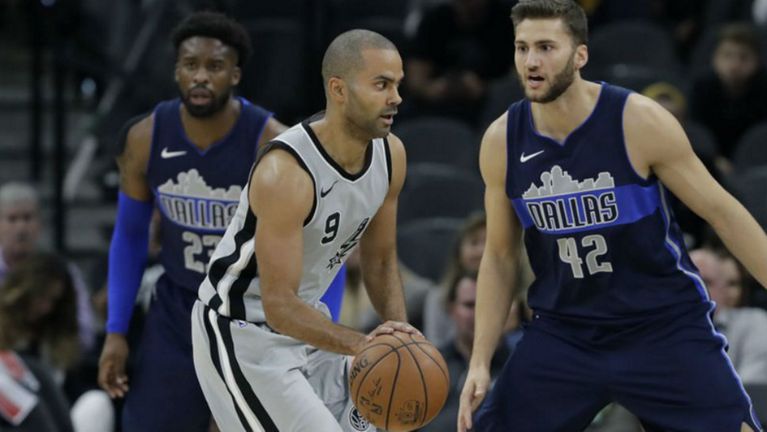 Season 51, Game 20
San Antonio 115, Dallas 108
13-7, 3rd in the West
Monday night marked Tony Parker's 1,144th career game in the NBA. After an injury sustained in last season's playoff series against the Houston Rockets, many of us didn't see him getting past 1,143.
In a game Parker later compared to his first game as a rookie, San Antonio sputtered early, but eventually settled in and claimed victory over the five-win Dallas Mavericks to improve to 14-7 on the season. Parker only played 14 minutes, but he scored six points on seven shot attempts to go along with four assists. Most importantly, he didn't appear to re-aggravate his injured thigh which is obviously priority number one in your first game back from long-term injury.
I've been reticent to extol the virtues of LaMarcus Aldridge this season, but it's high time I break my silence. Aldridge has been nothing short of fantastic in the wake of Kawhi Leonard's injury. San Antonio is way closer to 7-14 than 14-7 if LMA isn't on the roster. The All-Star power forward dropped 33 points on 19 shots against Dallas, and considering the Spurs only won by seven points, they needed every single one of those points to try and keep pace with the Houston Rockets in the Southwest division.
Also making their presence known in Leonard's absence are Kyle Anderson and Pau Gasol. Anderson notched his fourth double-double of the season with 12 points and 10 rebounds to go along with four assists. The ageless Spaniard Gasol didn't come close to a double-double, but scored an impressive 25 points on 9-14 shooting, including 3-4 from deep, which continues to be his most impressive late-career development.
San Antonio played the first half of this game like they were dead-set on losing, but outscored the Mavericks 69-55 (…nice) in the second half to push their season record to 14-7. Unfortunately, coach Gregg Popovic saw none of their second half resurgence due to an ejection for arguing with a referee with 7:25 remaining in the first half of the contest.
It wasn't pretty, but a win is a win, and the Spurs will continue to take wins however they can get them while Leonard is sidelined.
Bryn Forbes, despite his -22 +/- in 19 minutes, shot a cool 4-8, including 3-5 from three. His shot looks sweeeeeet
Dejounte Murray, who I still love, got only 5 minutes of play and seems to be way behind Forbes in the pecking order
Rudy Gay sat out with a heel injury
Davis Bertans has been nearly invisible on the team this year, and it's hard to imagine his role increasing when Kawhi comes back. If he doesn't get minutes with Gay and Leonard sitting out, when does he get minutes at all?