Editor's Note: We'd like to welcome Patricia Tirona to the Spurs Dynasty family. This post will be the first in a series about how and why certain players thrive in the San Antonio Spurs organization. We hope you like it.
Our genetic makeup is just one part of the blueprint of our destiny. It's incumbent upon us to nurture success through consistent physical and mental work, but more importantly seek out the most advantageous relationships to assist us in realizing our full potential.
Bryn Forbes is a young man on fire and has accomplished a feat I rank slightly above scaling Mt. Everest in its impressiveness and rarity. Forbes has, on several occasions, been the recipient of glowing praise from Gregg Popovich.
Coach Pop once compared Forbes' shooting abilities to Steph Curry's. Another time, Pop commended Forbes on his drive and maturity:
He's just getting better all the time. He's getting more comfortable and starting to feel like he belongs and that's really important with a young player.
Tony Parker's long absence due to injury sustained during last season's playoffs resulted in Forbes playing time more than doubling this season. Bryn responded by becoming a big shot taker/maker and confident 3-point marksman. It was revealed, after the December 9th game in Phoenix, that Pop drew up the game-winning 3-point play for Bryn. Didn't Kawhi have to wait deep into his third season for Pop to finally draw up a play for him? I might be exaggerating for effect, but it speaks to Forbes' work ethic and acumen that he was entrusted with the keys to the castle so soon, if even for just one night.
Whenever I see a photo of Bryn, whether it's with elder statesmen like LaMarcus Aldridge or Pau Gasol, smiling during practice, or bonding with teammates during a game, my heart warms like I'm watching some live baby panda feed. Bryn is an appreciative young man surrounded by protective older brothers who have his back. He in turn has theirs.
Mistakes like the one made by Forbes during the Spurs recent win over the Clippers are teaching moments. Bryn pulled down a rebound, led a fast break, and was called for a charge while trying to set up Brandon Paul for a corner three. Tony was wide open and would have been the preferable target for the assist. Parker conferenced with Forbes as the seasoned mentor paying it forward who remembers when Timmy pulled him aside and constructively took him to task.
Rudy Gay, new to the team, but already familiar with the Silver and Black code, gave him the "chin-up baby bro" encouragement. Unlike some other players in the league, the Spurs do not have skid marks on the back of their jerseys from repeated hurlings under the bus.
In the months since Lonzo Ball made his NBA debut I haven't figured out just what that expression on his face is and continues to be during most of his games.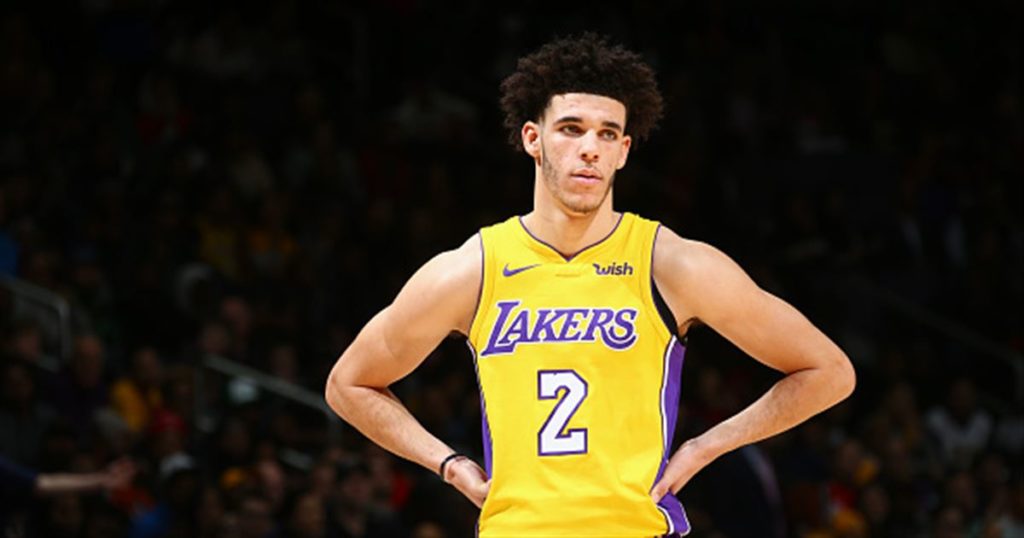 It doesn't seem to be a look of anger or resentment towards his omnipresent father. It doesn't appear to be a look of stress about not living up to pre- or post-draft expectations set up by a PR machine on steroids. Maybe it is the look of a young man frustrated by endless criticism and disappointing results, in spite of what he may feel his own Herculean efforts? No, not quite that.
There is no doubt Lonzo is talented, eager, and mentally wired to play the game. So why doesn't he look happier?
Spend enough time at a bar during peak hours and anyone can be an amateur anthropologist. Avoidance of eyes, retreating body language, and intermittent conversation often indicates an awkward in-real-life date after two people had only met online, i.e. Dwight Howard on every new team he swipes right on.
Seeing couples on their phones, making occasional, but familiar chatter, makes me think they've been together a while and are fine with status quo, little passion but whatever, it's good enough and easy – Chris Paul and DeAndre Jordan on the Clippers last season, pre-Paul exodus.
Then there's the lucky guy with the woman all the other men at the bar are staring at. She's beautiful, confident, vivacious, calling attention to her and her man, taking selfies, and seemingly out of thin air summons her high-heeled entourage of clones. Every so often I see a man in this situation who, rather than basking in the narcissistic glow, wears a look of panic or boredom.
That is the look I see on Lonzo's face. He won over the fairest female in the land, is the envy of many, but his reality doesn't live up to his fantasy. He's unfulfilled and disappointed by the lack of depth of the relationship. Lonzo was ushered into the league under the harshest of spotlights, with all the pomp and circumstance of a coronation, by no less than Magic Johnson himself. (Magic is the beautiful woman's father in this scenario.)
Lonzo is generous to what some criticize is a fault and liability – a pass first, score later point guard. He's a quiet kid burdened by the unfathomable expectation of stepping into Kobe's shoes; declared by Lakers GM, Rob Pelinka, to be a "transcendent talent."
No pressure right?
Sharing the ball, i.e. making assists, is where Ball's generosity would appear to end. In a mid November game against the Suns, he passively walked away from a scuffle his teammates became embroiled in. Imagine a Spurs player doing that, or anyone on any team? Those are not the actions of a man bonded to his teammates. It makes me wonder if Papa Ball insists he eat lunch at a separate table away from the other guys.
Now LaVar thinks it would be a fantastic idea to set up a league for aspiring, nationally ranked high school graduates who don't want to go to college. The deepest shudder from the depths of my soul emanate at the thought of LaVar Ball influencing an impressionable legion of youth.
I'd sooner entrust Darth Vader at peak evil to train an incoming class of Jedi toddlers.
Like Tim Duncan, Tony Parker, Manu Ginobili, and Kawhi Leonard, who ascended the Spurs ranks before him, Bryn Forbes is being systematically groomed to potentially inherit one of the rare keys to the castle, away from the voracious media spotlight, in the confines of a protective Spurs academy. Pressure will be left where it belongs – on the court.
Unlike Lonzo, Bryn has the joyful expression of a young man biding his time before he can pop the question to the perfect girl. (Yes, it is worth a mention that Kawhi rarely smiles, but the body language shared between him and his teammates speak the volumes Leonard doesn't.)
For further proof of the potency of the Spurs nurturing environment, one need only look at how beautifully Gay, Gasol, and post-reckoning Aldridge have fared as mature recruits.
As he grows into his role, Bryn may one day feel the pressure Lonzo feels now, but will be prepared when that time comes. Being in a relationship with the Spurs is hard work, demanding, but comes with all the benefits of open communication, endless support, and the understanding that while strict, it gives its players the freedom to evolve into their best possible versions.
Twenty consecutive playoff runs and counting sounds like the sort of marriage every NBA player wishes he was in.