About Us
SpursDynasty.com is dedicated to news, commentary and analysis about the four-time NBA Champion San Antonio Spurs and has been a leading Spurs fan site since 2005. (We're one of five Spurs Fan Sites featured on Sports Illustrated's Spurs page.)
Interested in advertising on our site or subscribing to our e-newsletter? Please complete the contact form below and we'll get back to you as soon as possible.
During the 2011-2012 season, the site averaged 35,483 visitors and 75,423 pageviews per month, thanks to the tireless efforts of our editorial staff: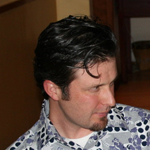 Daniel Strickland is Founder and Publisher of SpursDynasty.com. Dan grew up in San Antonio and graduated from John Marshall High School. He holds a BA in Literature from Southwest Texas State University (Go Bobcats!) and completed graduate studies in comparative literature at San Francisco State University. He's been an avid Spurs fan since the 1978-79 NBA season*. In addition to launching SpursDynasty in 2005, Daniel has created other sites, including: FestivalFreak (music), GreenDan (environment) and TestPattern.org (politics and culture). His next project will combines his interests in sports, music, and politics.

Jeff Koch
is Senior Analyst for SpursDynasty.com.
Jeff is a musician
— who, like most musicians, holds down a menial day job — and writer living in Portland. Jeff holds a BA in Literature, Science, and the Arts from The University of Iowa. He has toured nationally and currently performs and records with a diverse range of groups (including
Pilar French
,
Jake Oken-Berg
,
The Beautiful Train Wrecks
, and
Scott Gallegos
). Along with his writing duties for SpursDynasty, Jeff also serves as the Cultural Critic for
Ben's Ten, a monthly e-zine and blog devoted to health, creativity, and spirituality
. In 2007, he self-published a collection of stories and reflections he wrote while touring with Garth Michael McDermott.

Bramlet Abercrombie is Senior Satirist and a Co-founder of SpursDynasty.com. Even to himself, Bramlet is a mystery with a chewy enigma center wrapped inside greasy riddle strips and smothered in cryptic sauce, though he is probably not nearly as tasty as that description suggests. He does have good taste in basketball teams, however, and thus can often be found indoctrinating the infidel masses in Spurs orthodoxy.

For information about becoming a contributor, subscribing to our e-newsletter, or advertising on SpursDynasty.com, please fill out the form below.
*Much has changed since 1978, when the Spurs played in HemisFair Arena, Doug Moe was head coach, and the Spurs' opponents included the Seattle Supersonics, Washington Bullets, San Diego Clippers, New Orleans Jazz and Kansas City Kings. But in some ways, 1978 was a lot like today. The Spurs were nine deep that year: Larry Kenon, George Gervin, James Silas, Billy Paultz, Mike Gale, Mark Olberding, Mike Green, Coby Dietrick and Allan Bristow. Gervin lead the league in scoring (29.6 ppg), the Spurs finished 1st in the Central Division and lost in the Eastern Conference Finals (4-3) to the Washington Bullets, who in turn lost in the Finals (1-4) to the Supersonics.